Safeguarding of your child is a primary concern.  Below is a list outlining some of the things that we do to keep them safe and happy in school.
Staff are Safeguarding trained
All staff and regular volunteers have received DBS clearance to work in school.  Visitors are asked to show this on arrival
We have a Pastoral and Inclusion leader, who is highly qualified and has a wealth of experience to support children and families
On our School Parliament we have Ministers for Pupil Health and Well-Being
We have a 'STOP' button on the school website so that children can report anything which is worrying them directly to Mrs. McIntosh the Headteacher and Safeguarding Lead
We develop positive relationships with every child so that they are encouraged to tell us if they are worried about anything
We talk to the children about Online Safety and the dangers of the internet
We include regular items on e-safety in our newsletter
Mrs. McIntosh and a representative from the Governing Body has taken part in Safer Recruitment Training
We have an Anti-Bullying Charter which has been designed by the children themselves.  Please see the menu entitled 'Children' for more details
We have a Safeguarding Action Plan and Mrs McIntosh and the governors take part in a yearly audit to ensure that we are effective
Our

Designated Safeguarding Governor is Mrs S Marbrow

 who is also our

Anti-Bullying Governor

.  We talk about Safeguarding at regular governor meetings
Every visitor is expected to read the document below to ensure that they can help keep your child safe at all times.
School follow statutory guidance, which include: Keeping children safe in education – GOV.UK (www.gov.uk) and Working together to safeguard children – GOV.UK (www.gov.uk)
Please help us keep our children safe

The designated Safeguarding Leads in school are:

Mrs McIntosh (Headteacher)

Mr Melville – (Deputy Headteacher) Teaches in Year 5 and 6

Mrs Kiteley – Pastoral Care & Inclusion Manager

If a child makes a disclosure to you, whilst they are under your supervision, about their welfare or safety, please get a red (pink) form from the school office and fill it out accurately. Please record the facts as they are disclosed to you being careful not to ask any leading questions.

Should you notice any unusual marks or bruises on a child or witness anything which is of a concern to you in relation to a child's behaviour, welfare or safety, record it on a red (pink) form and hand over to the Designated Safeguarding Lead. If in doubt, seek further advice.

Please hand the form to the Headteacher, or in her absence – Mr Melville or Mrs Kiteley. The information on the form should be kept extremely confidential.

Please challenge all visitors who are not wearing a 'Coton-in-the-Elms Visitor' badge

Please make sure that all external doors are closed behind you and that the door from the Reception area is closed during school hours

A copy of our Safeguarding and Child Protection Policy is available from Reception

Schools, colleges and children's services : Safeguarding children – detailed information – GOV.UK (www.gov.uk) provides up to date Government guidance

The number for Derbyshire Safeguarding Board is: 01629 533190
IF YOU HAVE A SAFEGUARDING CONCERN TO REPORT OUTSIDE OF SCHOOL HOURS, PLEASE EMAIL: safeguarding@coton-in-the-elms.derbyshire.sch.uk
The school also subscribes to an Early Help service to support our children and their families in a variety of different ways.  Information pertaining to this can be found by clicking on the link below:
Every family has its ups and downs. Being a parent is hard work and there are no instructions. Sometimes, you or your children may need extra support. This may be before your children are born, when they are very young, or throughout their school years. There is nothing to be ashamed of in asking for help. Early Help helps you recognise what's going well for you, where you may benefit from extra help, and who is the best person to work with you and your family to make this happen. This may be through an Early Help Assessment (EHA).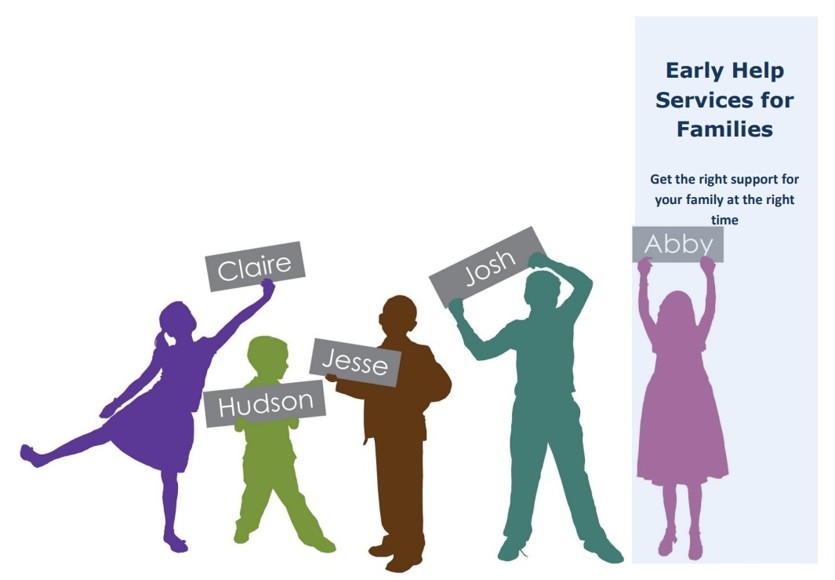 There are times when children, young people and families need extra help. Someone might offer this to you, but other times you might want to ask for it.
What is early help?
Early help is a way of getting extra support when your family needs it, but getting it as soon as difficulties start, rather than waiting until things get worse. It's for children and young people of any age. Help can come from all kinds of services and organisations who work together to support your family. You might be using some of these services already, but we want to make sure they are providing the right support for you and your family's needs.
Why would I seek early help?
It could be that you're worried about your child's health, development or behaviour ,or perhaps because you are caring for a disabled child. Maybe your child is affected by domestic abuse, drugs, or alcohol. Perhaps your child is a carer for other people.
Who do I ask?
Have a chat with a teacher or health professional. They can help you look at what types of support is available and who might be able to help. Your local children, young people and families centre also has lots of services and support for families with children, some especially for children with additional needs.
What sort of services or help do I get?
It depends on what you need and it might include services you already get. We will agree it with you and make sure it all joins up.
What happens in an early help assessment?
You will be fully involved and we will listen to you. It may be that we just talk to you and point you to the support you want. If it's a bit more complicated, we'll need to ask you for information that we write down or type. This is so we can get the right information and share it (if you agree) with people who need to know, so we can better understand your circumstances and match up services that would support you. You'll get a plan showing what you want to achieve and the support you need.
Can I say no to an early help assessment?
Yes you can. But we would like to stay in contact with you in case your circumstances alter or you change your mind.
Does it mean social services will get involved?
No. If in the future your circumstances change and it becomes a possibility, we will keep you involved and work with you so that you understand what is happening and why.
What happens when I stop receiving early help services?
We want you to become confident and able to find your own solutions and take responsibility for your family. You can continue to use all services that are open to families and children, and if your needs change then please ask us for further help if you need it.
There is excellent information for parents and carers on e-safety here, which we highly recommend you read. E-safety Guides for Schools | National Online Safety
Our computing curriculum includes the teaching of how to stay safe online.  We deliver additional lessons each term, focussing on specific areas of how to stay safe online.