I would like to take this opportunity to thank all of the parents, grandparents and other relatives who were able to join us this week, as part of our Back to School sessions on reading – many of whom attended multiple workshops throughout the week. These sessions were very much the highlight of the week for me, and it was great to see so many children and family adults making the most of the quality time together, sharing a book, doing their speed sounds or working on their comprehension skills. We had a record turnout on this occasion also and I hope many of you will once again take up the opportunity to join us in April for our sessions on spelling.  If you want to know some of the feedback we received, we'll be displaying this in reception over the next week.
'Reading' was very much on the agenda when Ms Bains met with the School Parliament on Wednesday last week.  They talked about the ways in which we can encourage you all to read more widely and more often.  Some of the children in Badgers have already written to an illustrator over recent weeks, in hope that  we will get a visit from them but there were some other really useful ideas discussed.  As I mentioned last week, our school library is now up and running once again and hopefully you are all taking the opportunity to choose another book of your choice, in addition to your reading book. We are looking into purchasing some more titles for you all to read, and most notably some texts which will 'stretch' the children in Years 5 and 6.  A 'book swap' idea was mentioned too, where classes will be able to have new books in their classroom every term.  Mrs Smith and I are also looking into how we organise our existing books more effectively, so that every child on a schemed reading book gets greater choice, regardless of their stage.   Watch this space!
Another item of discussion at Parliament on Wednesday was a healthy tuck shop – this is something that I have been keen to get up and running for a while now. I have asked Ms Bains and the Parliament to consider what snacks they'd wish to purchase at break time and how we could organise this so the children are involved in the selling of these items.  Please speak to your class MP if you have any ideas for what we could sell.  Ideas at present include: toast, chantenay carrots (or unicorn carrots as the children called them), milk, yogurt and raisins. I really want us to become a 'healthy school' and ensure that you are bringing in healthy snacks from home or taking up the option to go to our tuck shop. Ms Bains and I have also discussed 'Freedom Fridays' where you can bring in any snack of your choice for playtime, irrespective of what it is. Remember, nearly everything you eat can have unhealthy consequences if you have too much of it.  'Freedom Friday' is about teaching you that most things are okay provided they are eaten in moderation.
It was a real pleasure to hear that both Waynus and Henry (Happy Hedgehogs) had done really well in their mock Phonics Screening Check on Tuesday – improving their scores hugely since the last time they were tested.  Well done boys – I am really proud of you!  As I have said before, phonics is a big part of our School Improvement Plan this year and the whole staff team is working hard to make their lessons multi-sensory and more fun!  Mrs Smith has asked all of your teachers to think about all the P's: participation, pace, praise, productivity and progress  Your teachers had a great training session on Tuesday evening, delivered by Eva Cerioni from Derby University.  I am sure that they'll be using lots of the ideas that were shared with them.  In Key Stage 2, there were lots of useful ideas for how we could make spelling time much more effective too – watch this space!
I was really proud to hear how well our table tennis players represented our school last Thursday, in a tournament with other local schools.  Mrs Mailer was really pleased with the way in which our children showed good grace and sportsmanship in their matches and she was amazed by the effort that was put in.  I am told that Archie (Badgers) performed superbly against a Year 6 children from another school and only narrowly missed out and Luke (Funky Foxes) made his way through to the quarter finals!  Well done to all boys who attended and once again a big thank you to Mrs Mailer, who works hard to 'fly the flag' for sport in our school.
Scripts went out for 'Oliver!' on Monday last week and this gave all children in Key Stage 2 a chance to read through the lines at home and see what was in store for them.  Danny (Wise Owls) was most excited to discover that he has 76 lines to learn and perform and I caught Owen and Alex having a sneaky practice on Thursday lunchtime!  As you are all aware, our dates for this performance were set in September and plans have been in place since then to make sure that we build on the success of  last year's 'Joseph and his Technicolor Dreamcoat' performance.  Our Year 6 children are really looking forward to 'going out on a high' and embracing their last opportunity to 'shine' before leaving for pastures new in September.
I've had to have some really stern words with a few children this week about honesty and telling the full story.  Please remember that we all make mistakes and it is okay to make mistakes, provided that we are prepared to 'face up' to them and learn what we could have done differently. Making mistakes is a big part of growing up and all of your teachers will always give you time to explain what really happened if we have to follow something up – please remember that honesty is the best policy!
I really hope you can all remember what I chatted about in Collective Worship last Monday – we did a lot of talking about helicopters! Helicopters can be really helpful to us – they hover over us – they protect us – they can rescue us when we are in difficultly.  However, we also discussed the need to take greater responsibility for ourselves in the event that we don't have a helicopter to hand! We chatted about the importance of being independent learners and independent thinkers and the fact that we are all guilty of asking for help before we attempt to try something for ourselves on occasions.  Janey (Brilliant Badgers) tells me that in her class they have to remember C3-B4-ME and I am also aware that the Super Squirrels are trying to use the learning walls before asking Mrs Harris or Mrs Christie for help.  I am going to be keeping an eye out for this in school next week.
Also next week, I am going to asking your teachers to focus on making sure that you display the correct learning behaviours in lessons.  I am really proud of your general behaviour and your politeness around school – it is one of things that was praised in our Ofsted and SIAMS inspections last year – you make teaching at our school such a pleasure!  However, I am going to keep a close eye out for those individual children who are showing us those behaviours which will make them a better learner.  For example: always having the right equipment in school, looking smart and keeping their shirt tucked in, showing active listening by not getting distracted when you are being taught, sitting up straight, avoiding distractions when you are working, listening carefully to the instructions and showing drive and determination by having a go before asking for help.  I will also be asking your teachers to watch that you are not sitting back and waiting for other children to answer questions in class – if we embrace the chance to participate in something then we get more back in return.  Come on – you can all do it!
Last week's class of the week were the Wise Owls – they always show good learning behaviours.  It was great to see them all engaged in a mature debate over what the difference was between a habitat and an environment on Tuesday, when I visited their classroom.  Please keep this up Owls – it is having an impact on your chances of success.  You may have an extra 5 minutes playtime this week for making us proud!
Congratulations to the Super Squirrels for winning this week's Smithy Award for home-learning too – a fantastic 28/30 children did all of their home-learning last week!  Thank you also to the Brilliant Badgers, who were the class with the best attendance last week. Again, you may have an extra 5 minutes playtime when it is convenient for Ms Bains.
Next week, I hope to see lots of parents and carers at my termly Cuppa and Cake session.  This will take place between 9am and 10am on Thursday morning and it is a really informal gathering for you to get to know what is happening in school and what we are working on.  Before that, I hope that many of our Year 6 parents and carers are able to join us for the SATS Prepare Aware Workshop, taking place at 6pm on Tuesday evening.  This will be a good chance for you to find out about the test format and how we are going to best-prepare the children for these tests in school.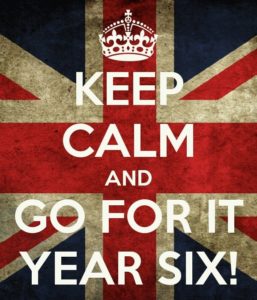 Before I leave you, I just want to extend a big thank you to the 19 children who entered the blog box competition last week – I was one very happy Headteacher!  A lot of time goes into writing my weekly blog because I want you all to know what is happening around our school.  Let's see if I can get 30 entries this week!
This week's blog box question is: What are the 5 P's that make a good phonics lesson?